Results
21st October: 12th At Motegi For Remy Gardner After Last Lap Lunge In Japanese Moto2 GP. Read more===>
11th October: Awesome placing in 2017 Australian Junior Championships at Taree for Jacob Roulstone with a 1st on 80cc Mod, 4th on 85cc SW, 5th on 65cc and 6th on 85cc BW and also Senna Agius coming 1st in his categories. Well done Boys!!!!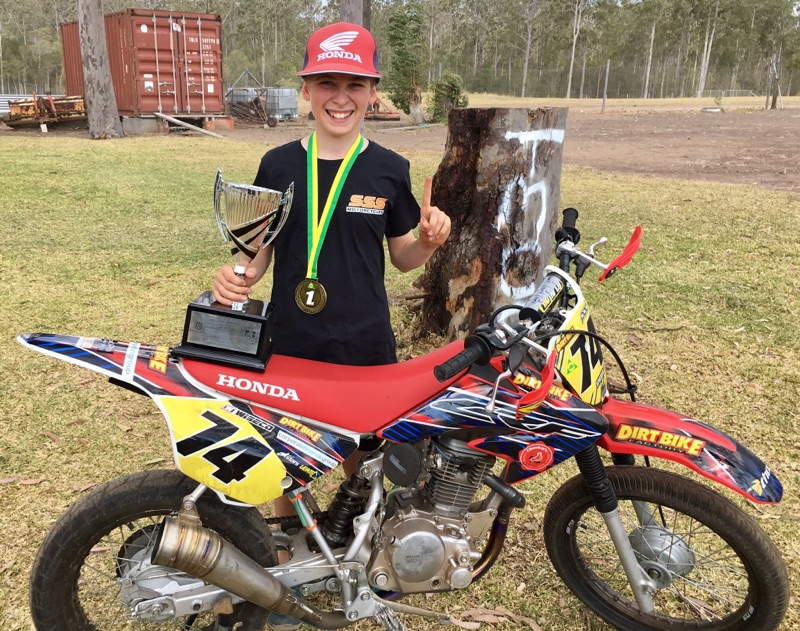 29th September: Remy Gardner's latest results and news.
Results from Australain Junior Dirt Track Championships. Click to download results and report.
13th September: Gutsy Gardner Grabs Thirteenth After Two Crashes In San Marino GP. Read more===>
29th August: Junior speedway results for pointscore #5 and pointscore #6 held on the 26th of August.
Gardner Disappointed With 20th In British GP, Looking To Make Amends In Misano. Read more===>
21st August: Gardner Grits His Teeth To Finish 15th In Austrian Moto2 GP. Read more===>
8th August: Congratulations to Senna Agius for placing a 1st an 2nd, and Jacob Roulstone 2nd and two 4th placing at the NSW Junior Track Championships. Great riding boys and well done.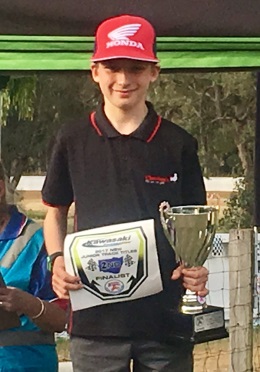 Remy Sails To Career Best 9th At Czech GP. Read more===>
27th July: Click here for Central Coast Cup 2017 full results.
Junior speedway results for pointscore #3 and pointscore #4.
18th July: There were three club members who represented the club at the 2017 AUSTRALIAN JUNIOR TRACK CHAMPIONSHIP on SATURDAY 15TH & SUNDAY 16th JULY 2017 at NWVMCC COMPLEX JAMBEROO PARK Mildura Vic. Senna Agius, Valentino Knezovic and Jacob Roulstone all rode well with their results below. Well done boys!!!!!
Valention Kenzovic Div 2 - 5th, 65cc 7 to U9 - 8th.
Senna Agius 85cc Modified 10 to U14 - 3rd, 85cc/150cc standard wheel 11 to U13 - 1st, 85cc/150cc big wheel 11 to U13 - 1st.
Jacob Roulstone 85cc/150cc standard wheel 11 to U13 - 5th, 85cc/150cc big wheel 11 to U13 - 9th.
For full results click here.
For Motorcycling Australia media release click here.
29th May: New names were added to the honour roll of winners in both the senior and junior divisions of the Honda / Tumut Motorcycle Accessories Central Coast Cup after the 2017 staging of the event on the weekend at the Allen Park track at Somersby. Read more===> . Click here for full results.
27th March: Junior speedway results. Click for results from pointscore1 and Spirit Of Speedway
19th February:
2017 TROY BAYLISS CLASSIC
Hot and sunny weather greeted the competitors at Taree for another year of actioned packed day and night racing at the Troy Bayliss Classic. There seemed to be quite a few first at this meeting for our members.
85/150cc 10 to U13 1 2 3 Repecharge Finish
Jacob Roulstone 1 4 5 5
Jack Joel 5 4 2 12
Senna Agius 2 1 1 1
250cc 13 to U16
Bailey Davis 6 8 7 14th
450cc
PPeter Smith 8 11 DNS 35th
David Smith 5 2 5 6th
NNick Lahey 6 6 1 10th
Americana David Smith Top 2 6 Top 12
Jacob won the first 85cc race to finish overall 5th. Senna first in the 85cc finising 1st overall. Jack had two unfortunate falls only to bounce back both times finishing 12th. Peter decided to pack up and finish early. Nick in the 450cc and had great start to finish with a win. David first CCJMCC to make in all Americana's he competed in. Bailey rode well with consistent results only to just miss out on the final.
Well done boys with the hot conditions of the weekend.
Check out full results on Speedhive.
13th December:
CCJMCC club results and awards for 2016.
Read more===>
4th October:
Click to download the Honda / Tumut Motorcycle Accessories New South Wales Junior Track Championship
report
and
results
. Full results of finals
download
.
10th September:
More results from the Australian Championship at Gunndedah:
Jack Joel 4th 85cc, 4th 80cc Mod. Well done Jack.
18th August:
Australian senior dirt track championships
race report
and
results
.
9th August:
Far South Coast Cup results and report.
Read more===>
.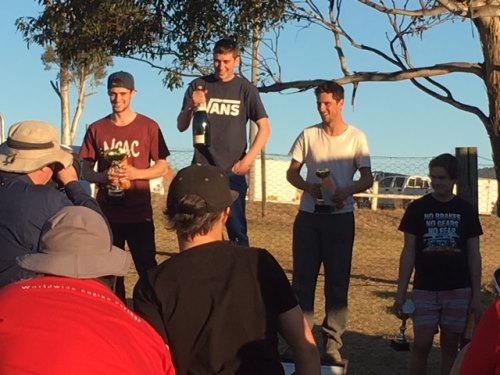 David Smith, Luke Gough, Kale Galeano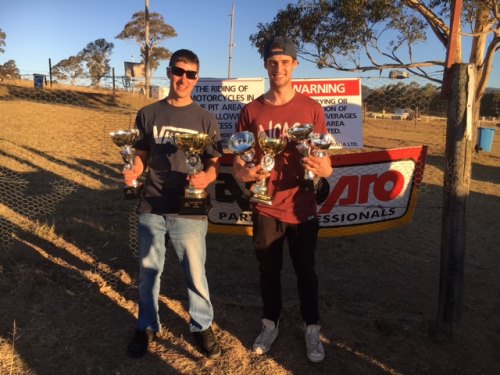 Luke Gough & David Smith
8th August:
Congratulations to two of our club members Jacob Roulstone and Senna Agius for their outstanding results in the 2016 Australian Junior Dirt Track Championships hosted by the Gunnedah Motorcycle Club on the 6-7 August. Well done boys.
Senna Agius 1st 85cc, 2nd 65cc.
Jacob Roulstone 1st 10-U14 85cc Modified, 5th 65cc, 5th 85cc.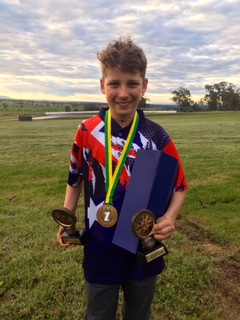 1st August:
The Central Coast Junior Motorcycle Club hosted round seven of the Junior Speedway Winter Series on the 30th of July. Eleven riders competed over five rounds followed by semi finals and final.
Read more===>
30th May: Click to download Central Coast Cup 2016 report and results.
8th May: Junior Speedway Challenge
The CCJMCC ran a double header on Staurday the 7th of May. First up was the Junior Speedway Challenge promoting the SGP followed by round 3 of the Winter Speedway Series.
There was a field of eight riders and the two standouts during the day were Jack Miles and Maurice Brown. Brown didn't get off to the best of starts when he was beaten in his first heat by Aiden Phillips. Phillips took the early lead before surrendering it to Brown. A lap later it was Phillips who made the pass to take back the lead and hold it to the chequered flag.
Brown then had four more heat wins to finish top scorer. He showed his skill in his last heat by coming from 3rd place at the end of lap 1, making two great passes then leading from the start of lap 4 to the flag.
Miles had three heat wins including one where he too had to come from 3rd place, making some daring passes and taking the win.
Other heat winners were Harrison Ryan and Lex Tracey.
Brown had a steady win in his semi final following a good start. He beat home Ryan, Phillips and Josh Watson.
The second semi final lost a rider when James Pearson had to withdraw. In his last heat a rock was thrown up and struck is hand. After getting medical attention, and having his finger splinted and strapped, Pearson could not start the race.
Miles won the second semi final following an initial tussle with Tracey. They kept ahead of Nate Simpson who finished third.
When the tapes went up on the final Miles and Brown were side by side for the first lap. Behind them Ryan had a slight lead over Tracey.
On lap two Tracey charged up behind Ryan and clipped his back wheel. Ryan kept going while Tracey fought to control his bike, He narrowly missed the outside barrier in turn one but managed to stay upright. He had lost a lot of ground and remained in 4th place for the rest of the race.
Ahead a hard charging Brown went in too fast behind Miles, went wide and lost momentum. This allowed Miles to stretch the lead and for Ryan to catch up. Brown spent the rest of the race pulling away from Ryan and catching up with Miles but there were not enough laps to mount a challenge for the lead.
Miles won a hard fought race from Brown, Ryan and Tracey.
In the following event, round 3 of the Winter Series, Brown was successful in the A Final beating Miles, Ryan and Phillips.
Results from Speedway Challenge.
Results from Winter Series round.