For Sale
Bike Trailer
12 months rego
for more information please call Chris 0410692579 or Dani 0457800692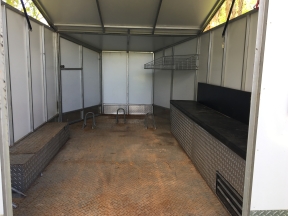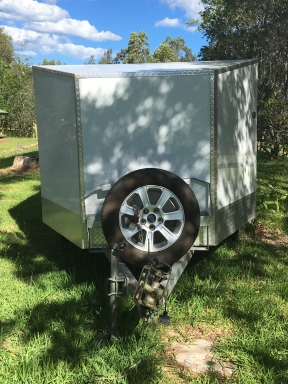 6/12/2017

Has been ported polished, carbie bored, fresh topend @39hours. Have the 2 old pistons. Has unbreakable levers. Hand guard's, new front tyre, new chain, factory suspension set up for 40kgs, extended swing arm, HGS full system, 41.2hours
Air cleaner cleaned every ride. Gear box oil changed every 4hours. Well maintained, fast reliable bike, used for flat track hence the low hours. Mmany spares

Contact Doug 0412 803 741
KTM 85 SX Big wheel 2016 ported polished, HGS pipe, cut down shorty, SX injection, good tyres, chain & sprocket, 12 hours.

Air cleaner cleaned every ride, gearbox oil changed every 4 hours, professionally lowered set up for 45 kg rider same height as small wheel, excellent condition, one owner log books

Contact Doug 0412803741
17/11/2017

2012 CRF450 $4500
-Full Hinson racing 6 spring clutch
-Fully rebuilt in may, including gearbox components.Honda genuine crank and cp high comp piston just before central coast cup.
-Oversize radiators with blue silicone hoses.
-Bike is wired to suit a trail tech voyager setup which measures water temp, speedo and hour meter as well as gps coordinates.
-promoto suspension setup for dirttrack to suit 85kg rider lowered 20mm
-will be sold with STANDARD exhaust
Will be selling a performance package that is suited for the bike(or others from 2011/12) for an extra $1000 which includes vortex ignition, Performance camshaft and yoshimura exhaust.
Standard camshaft to suit 2011/12 model CRF450 for sale as well $100
More information call Peter on 0414 653 789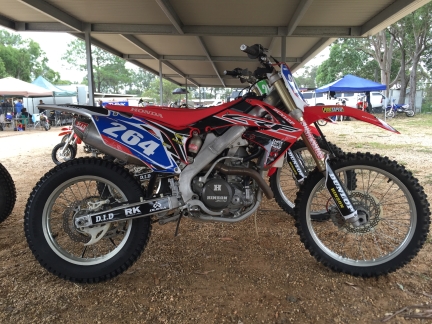 8/11/17

Honda CR85 2003
Mod top end just been done. Bottom end done 16 hrs ago. Comes with big + little wheels, pro circuit pipe + down pipe. Heaps more
$2000 Ono
Ph Gavin 0410 409 102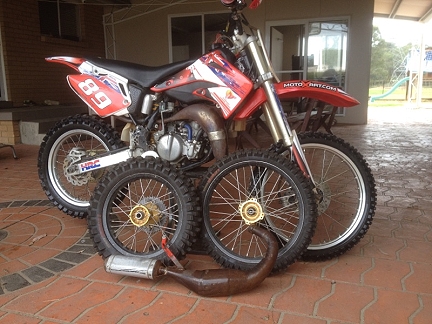 21/10/17

4-5 bike trailer (2012 model)
Dual axle, internal and external affixed tool boxes. Optioned out at time of manufacture. One owner. Very good condition. Long rego.
$9800 ono. Ph. Paul - 0457104420.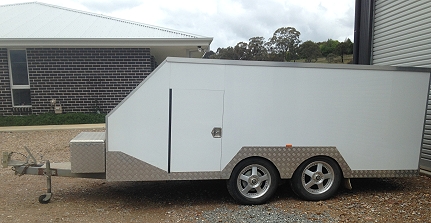 21/10/17

RMZ250.
Set up and ready for dirt track.
For more information call 0488 394 914
03/10/17

2012 KTM 65, low hours $2,500.00

Contact Steve on 0414 779620.
14/5/17

1. 125cc Junior Solo.Fresh Phil Mackay Motor .Bike is in imaculate condition with all quality brand parts and acessories. $4,500
2. Wulfsport Body Armour size Youth L in immaculate codition $60
3. Leatt Body Armour Size Youths L/XL worn for 3 months $170
4. Used Junior Speedway Tyres. Most only used 1 meeting $20 each
5. Steel Shoe GTS new colmoly just put on sole $80
6. Wulfsport articulated knee braces $30
7. Leatt GPX Neckbrace $100
Call Scott Bailey, 0408833591
5/3/17

There are always people looking for second hand bikes and race gear. If you have anything you no longer need then this is the place to sell it.